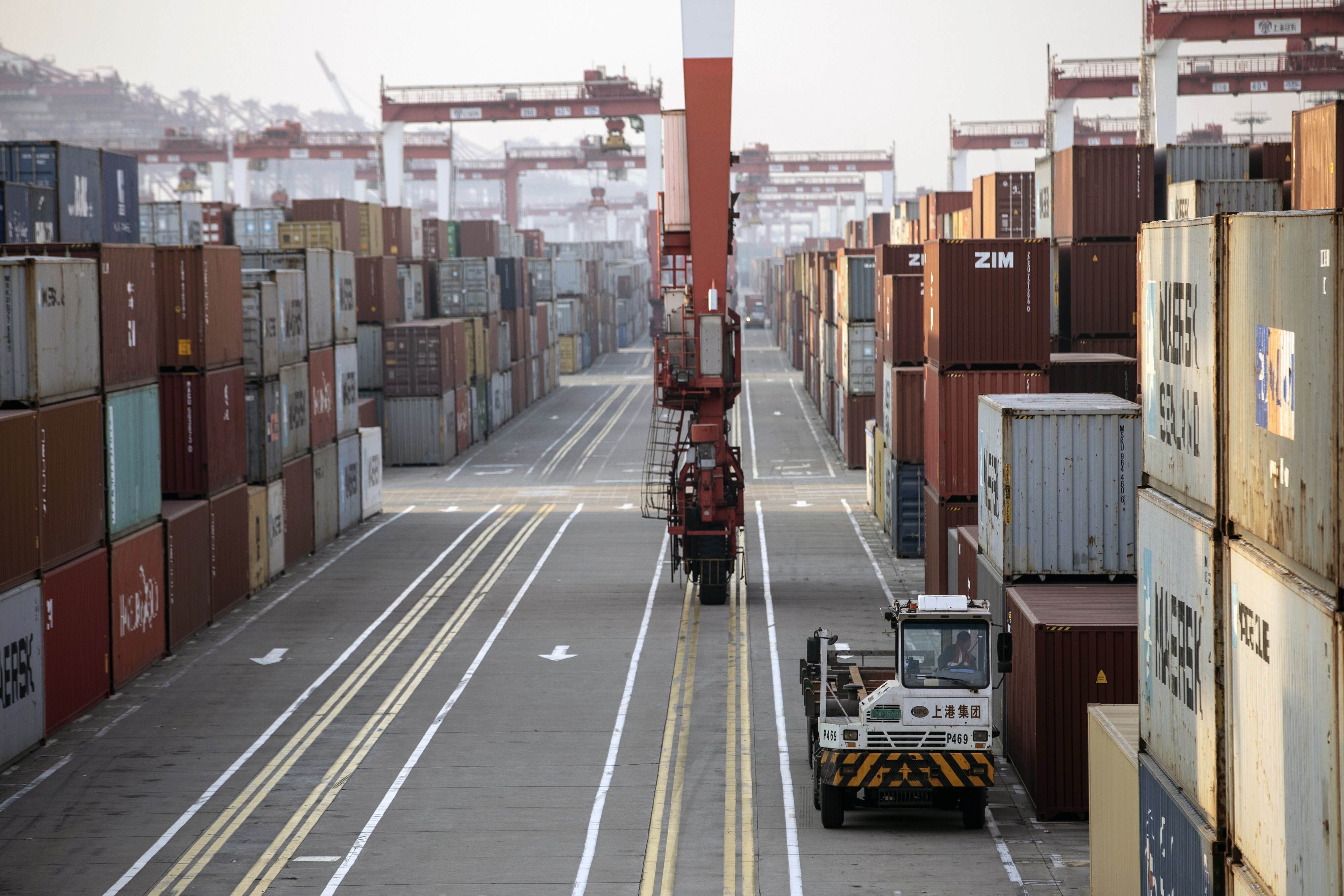 China's exports continued to surge in December, data released by its customs agency on Thursday showed.Exports grew by 18.1 per cent last month from a year earlier, down from 21.1 per cent in November but above the consensus result of a survey of analysts, conducted by Bloomberg, which predicted 15.0 per cent growth.
This was the seventh consecutive month of export growth, with China's factories continuing to capitalise on coronavirus lockdowns in the West.
Imports grew by 6.5 per cent in December from a year earlier, up from 4.5 per cent the month before, and above the consensus forecast of 5.7 per cent.
This was the fourth month of consecutive import growth.
China's trade surplus rose to a record US$78.18 billion last month, above the previous high of US$75.40 billion in November, as export growth outstripped imports again.
"China is the only one major economy in the world that has reached a positive growth in goods trade [in 2020], the status of [China as] the largest goods trading nation [in the world] has been further consolidated," said China customs spokesman Li Kuiwen.
"China has become the only major economy in the world to achieve positive economic growth [in 2020]. The trade imports and exports were significantly better than expected, and the scale of foreign trade hit a record high."
Overall in 2020, China's exports rose 3.6 per cent compared to a year earlier, while imports dropped 1.1 per cent. China's trade surplus last year was US$535.03 billion, the highest since 2015.
Last year, imports from the United States rose 9.8 per cent to US$134.9 billion, while exports rose 7.9 per cent to US$451.8 billion, resulting in a trade surplus of US$316.9 billion.Amid their ongoing trade dispute, China's imports from Australia in 2020 dropped 5.3 per cent to US$114.8 billion, while exports rose 10.9 per cent to US$53.5 billion.China's overall economy has continued its recovery from the impact of the coronavirus, with growth in the third quarter accelerating to 4.9 per cent from a year earlier, up from 3.2 per cent in the second quarter, after a 6.8 per cent contraction in the first quarter.China is now expected to be the only Group of 20 nation to show a positive economic growth rate in 2020, predicted to be 1.9 per cent by the International Monetary Fund and 2.0 per cent by the World Bank.
"The current strength of exports is unlikely to be sustained indefinitely, especially given that consumption patterns overseas should gradually return to normal as vaccines are rolled out." – Julian Evans-Pritchard
"Exports continued to do well last month, as renewed lockdowns abroad ensured the shift in consumption from services to goods persisted in many of China's trading partners. Meanwhile, a pickup in import growth suggests that domestic demand remains strong. We think trade will remain resilient in the near-term but will soften later this year," said Julian Evans-Pritchard, senior China economist at Capital Economics.
"In the near-term, the tailwinds from last year's stimulus should keep imports strong for a while longer. And although the export orders component of the manufacturing [purchasing managers' indices] dropped back slightly in December, it still appears consistent with rapid export growth.
"But further ahead, the current strength of exports is unlikely to be sustained indefinitely, especially given that consumption patterns overseas should gradually return to normal as vaccines are rolled out. And imports are likely to drop back as policy support is gradually withdrawn throughout this year." (Source: scmp.com)