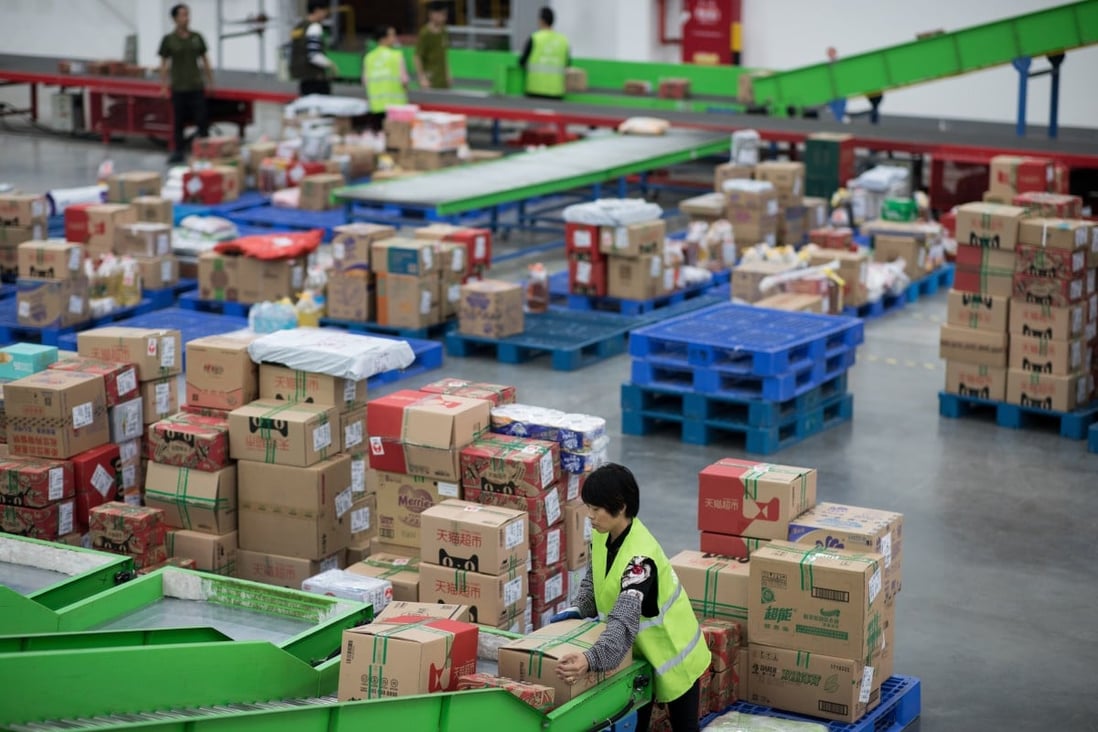 Chinese e-commerce giants Alibaba Group Holding and JD.com are using dedicated channels for overseas brands to reach more domestic consumers, as closed borders during the coronavirus pandemic led to a surge in imports of consumer goods last year.
New figures released by China's Ministry of Commerce (MOFCOM) on Tuesday showed strong consumer demand for imported consumer goods, especially cosmetics and luxury products such as handbags and watches. Consumer goods imports surged 8.2 per cent last year compared with 2019, reaching 1.57 trillion yuan (US$242.1 billion), according to MOFCOM. In contrast, sales of domestic consumer goods contracted 3.9 per cent, according to numbers from the National Bureau of Statistics released on Tuesday.
While consumers in mainland China might once have opted to pick up luxury goods during trips to cities like Paris, Tokyo or Hong Kong, Covid-19 has led online platforms to play a larger role in helping foreign brands sell to Chinese buyers. Some consumers are also discovering that it can be cheaper to buy imported products than getting them from shops in China.
"Compared with counters in shopping malls, it's much cheaper to buy this stuff through Tmall Global, and it's more authentic than products from unverified Taobao shops," said Laura Qiu, a 26-year-old in Shenzhen. "Also, many foreign brands don't have a physical store in China."
Qiu said she has been purchasing foreign brands online for about six years. She originally used the cross-border e-commerce platform Kaola, which was acquired by Alibaba in September 2019, but she later started using Tmall Global for cosmetics and skincare products because it had more brands and choices, she said.
"A few years ago, e-commerce giants had already started introducing overseas brands and products to domestic consumers," said Chen Tao, a logistics analyst at Beijing-based consultancy Analysys. "This has greatly improved the efficiency of connecting domestic consumers with overseas brands and products, meeting their needs for a consumption upgrade."
Tmall Global, Alibaba's cross-border business-to-consumer marketplace, said on Tuesday that it was introducing a new suite of solutions to help global brands to enter China, including a faster registration process that could take as little as 30 days. The platform also offers marketing support to foreign brands, such as selecting influencers and live-streaming celebrities to help promote products in the Chinese markets.
"Brands, particularly small and medium-sized players that have been hard-hit by the Covid-19 pandemic, are trying their best to enter new markets and find fresh channels for growth," Maggie Liu, general manager of Tmall Global, said in a statement. "In China, e-commerce platforms such as Tmall Global have become consumers' preferred avenues for purchasing overseas products."
The number of overseas brands and merchants on Tmall Global is growing fast. The platform had more than 29,000 brands across 5,800 categories as of the end of December, the company said, adding that more than 80 per cent entered China for the first time when joining the platform.
Tmall Global is also just one of many platforms connecting foreign brands with Chinese consumers.
JD.com, China's second-largest e-commerce company, has boosted support for overseas merchants on its JD Worldwide platform, which offers online store assistance and logistics support in China to foreign brands.
Amid pandemic, Chinese consumers spend US$74.1 billion during Singles' Day online sales festival
As the world's second-largest economy and the only major economy to grow 2020, China is an important market for overseas sellers. It has also been the world's largest online retail market for eight consecutive years. China's online retail sales of physical goods in 2020 reached 9.8 trillion yuan, accounting for nearly a quarter of all retail sales for the year and up 14.8 per cent from 2019, according to MOFCOM.
However, cross-border sales still make up a small share of overall e-commerce in China, according to Analysys' Chen, adding that the service can still bring in certain types of shoppers.
"For young consumers and those who have personalised needs for consumption, cross-border e-commerce is still indispensable in attracting those groups," he said.The importance of e-commerce has grown in other ways during the pandemic, which MOFCOM said has accelerated the integration of online and offline sales. Package delivery volumes reached 83.36 billion in 2020, and more than 20 million live-streaming e-commerce sessions were hosted last year, according to MOFCOM. (Source: scmp.com)