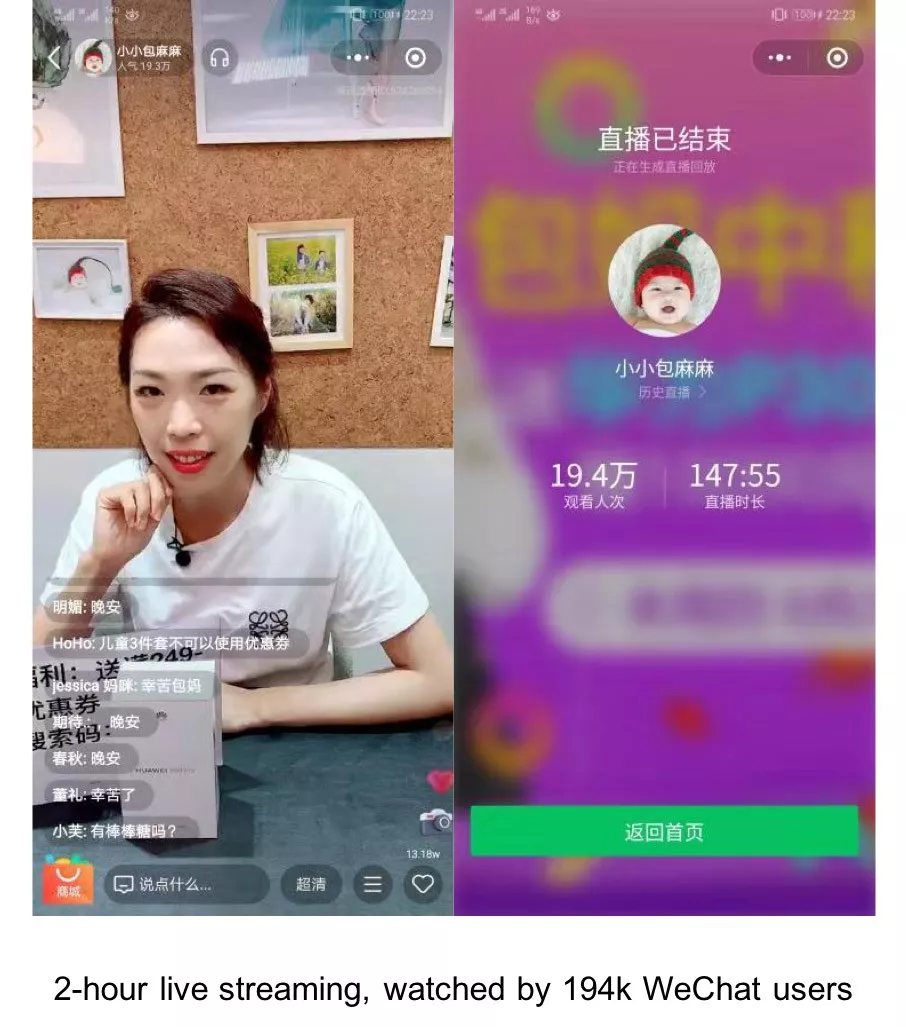 The founder of Xiaoxiaobao Mama, Sun Jing, managed an impressive feat even by Chinese live streaming standards. Last August, she sold 3.22 million RMB worth of products during a 2-hour-long WeChat live stream.
And these results were not due to chance. In May, during her first WeChat live stream, she managed to sell 15,360 products worth a total of 2.16 million RMB.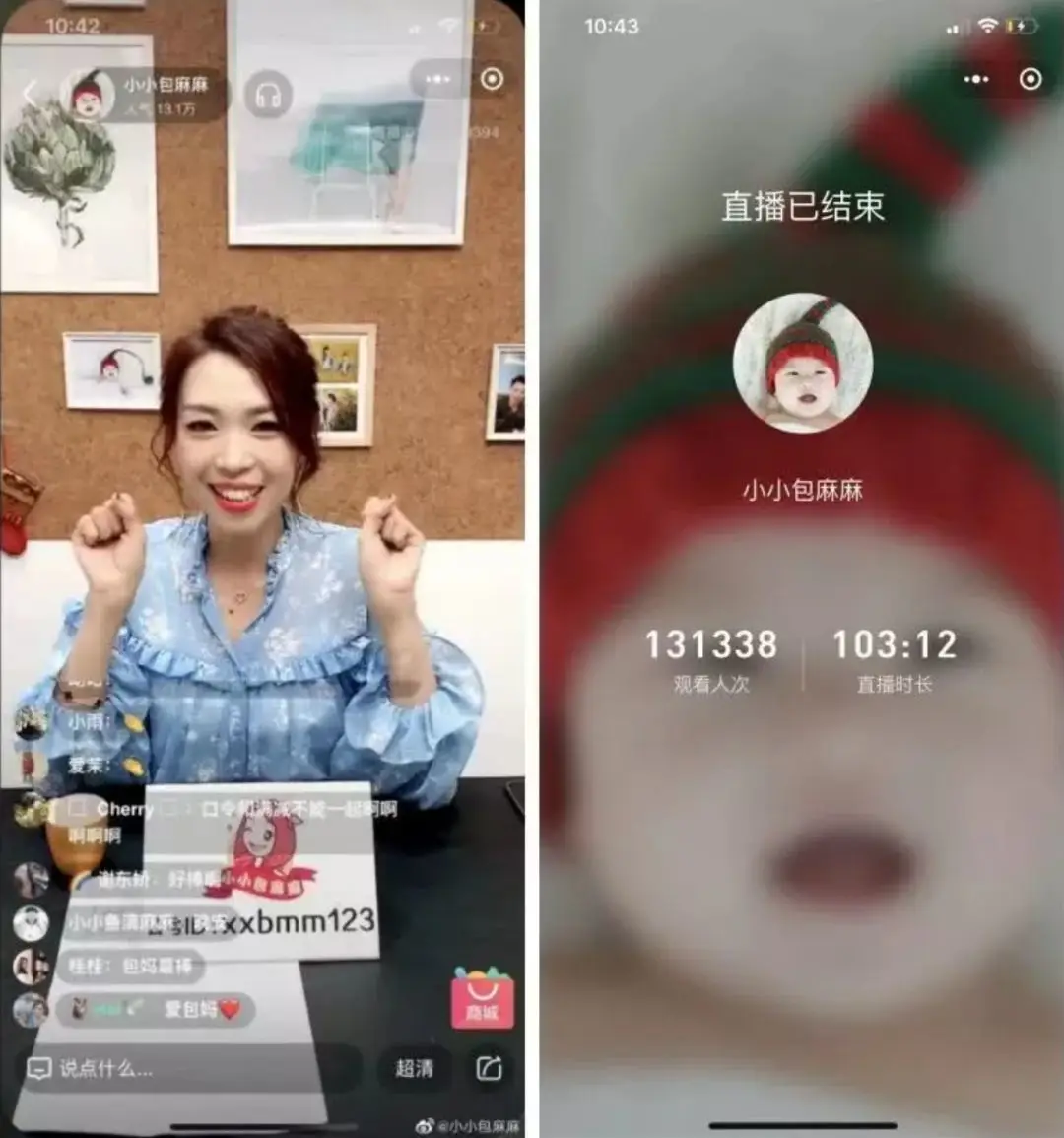 The first WeChat live streaming of Xiaoxiaobao was watched by 131k users

How did Xiaoxiaobao Mama get where it is today, and what are its latest tactics?
How did Xiaoxiaobao Mama grow?
Xiaoxiaobao Mama was launched in 2013 by Sun Jing and Jia Wanxing, the parents of baby Bao. The Weibo account focused on tips to raise kids, infantile disease prevention and other child-related knowledge. The WeChat Official Account was launched in April 2014, and within a year, the WeChat follower grows to 200k, an impressive following at the time.
The account stood out by being one of the first WeChat Official Accounts with good parenting content written by actual parents. The Bao family had become the KOL and expert in mother and baby sector. It was also one of the first accounts to leverage the WeChat store feature and to launch a WeChat Mini-program.
And this approach worked: within 2 years, it had attracted 2.2 million followers: mostly young mothers looking for advice on how to raise their kids… and for products to help make their children healthier and happier.
Impressive results
This approach, based on creating user trust by becoming a source of expert content, worked:
20% of the Xiaoxiaobao Mama's followers made a purchase on the platform
80% of customers are repeat customers
At the end of 2017, Xiaoxiaobao Mama attracted a B round of investment of 140 million RMB (~20 million USD)
8 million WeChat Official Account follower as of October 2019
KOL ads on its WeChar article are priced at 550K RMB
The secret of success
Xiaoxiaobao Mama leverages several mechanisms in order to succeed in a competitive market.
Eye-catching promotions
It is a common practice in content marketing to post a lifestyle article followed by more promotional articles.
Xiaoxiaobao Mama is especially good at using this strategy, with a clear structure:
"Soft", non-promotional content as the first article
The second article is usually a special promotion, for instance, a group buying offer or a heavily discounted product
Following articles are almost all in-depth product reviews with e-commerce link
A preview of the group buy for the next day to build anticipation
The last article is a video of Bao Baba, Douyin focused content (more on that in the next section)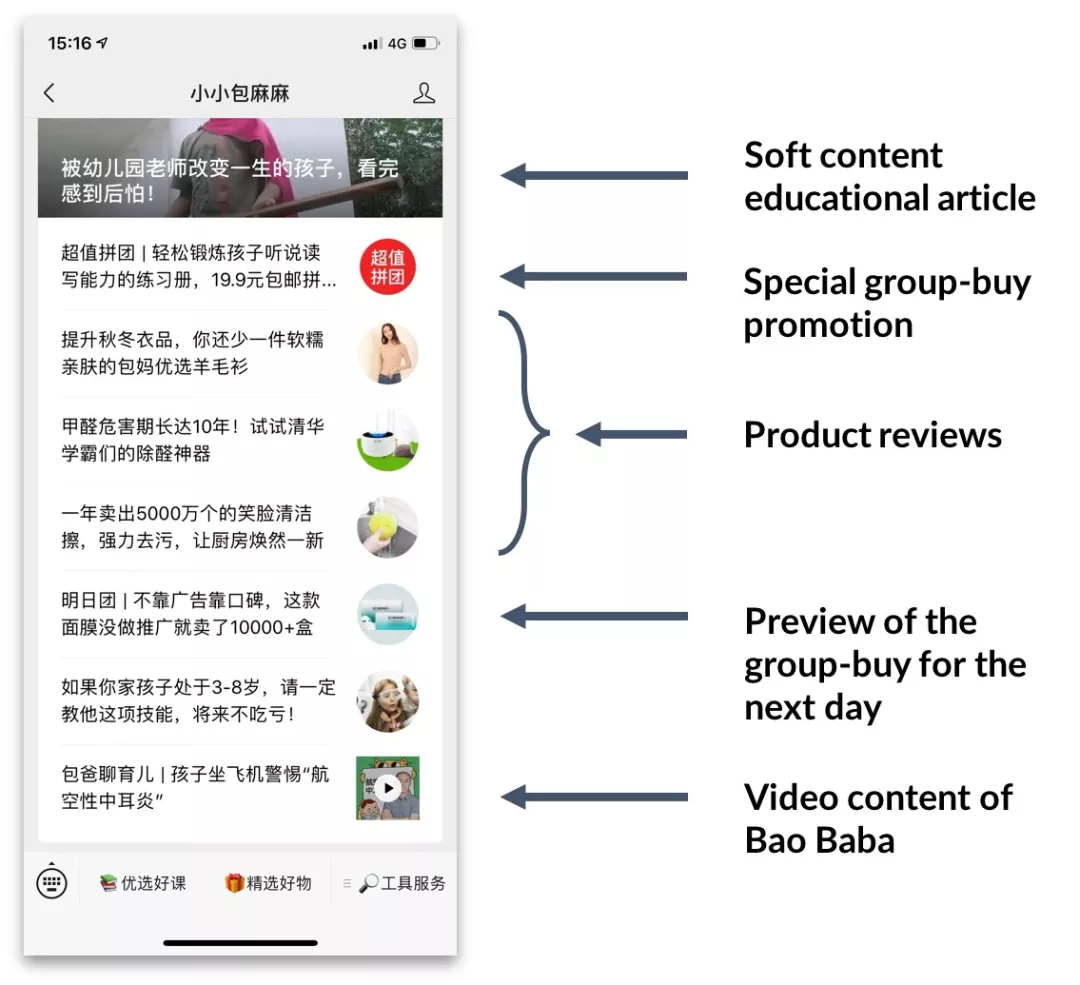 This structure enables to cater to two very different groups of users: the 80% of "readers" who are simply looking for tips (who might only read the initial article, and maybe some product reviews) and the 20% of "buyers" who are looking for good deals (who will focus on special deals and product reviews).
Free tools to keep users coming back
Xiaoxiaobao Mama created at least three free mini-program tools for parents:
A nutrition guide to check the benefits/harms of various foods for pregnant women
A vaccine guide generating reminders about vaccines for child between birth to 6 years old
A height/weight tracking tool to follow the growth of your child over days, months and years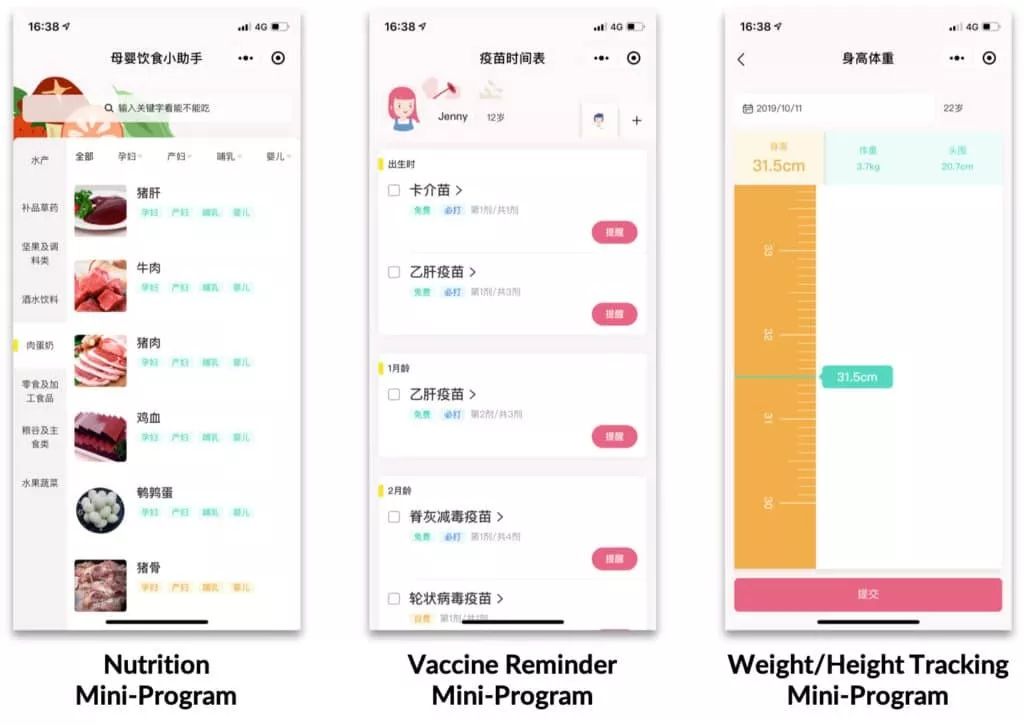 These tools are all meant to be used on a regular basis, this frequently reminding the users about Xiaoxiaobao Mama.

Although they don't generate direct revenue, they are a perfect way for the account to stay top-of-mind for all of its followers.
Multiply revenue streams
Xiaoxiaobao Mama also managed to expand faster by multiplying the available revenue streams. After successfully launching its store, the account released its own content platform (similar to other Chinese Apps such as Zhihu or Dedao) providing classes and content targeting kids.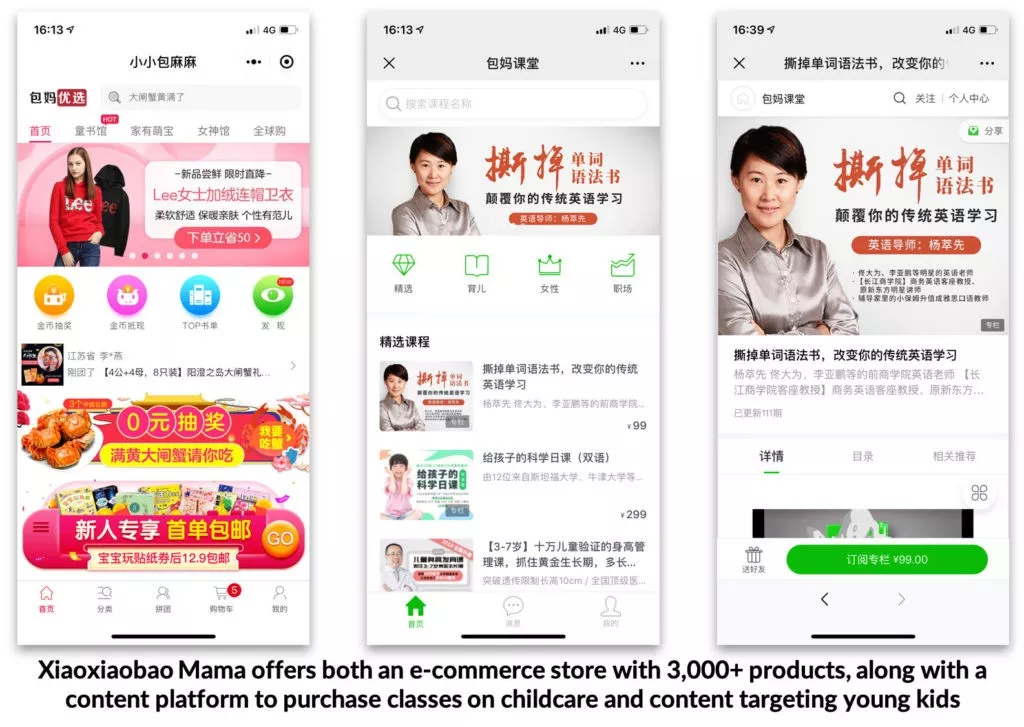 The classes focused on parenting tips and beauty tips for moms. Most of the classes are priced within 100RMB.

These two revenue streams also have deep synergies: high-quality classes increase trust in the account and therefore sales.
Content repurposing and leveraging Douyin
Understanding first-mover advantage, Xiaoxiaobao Mama diversifies risk by incubating new KOL accounts in the latest short-video platforms.
Bao Baba is a Douyin focused KOL that incubated by Xiaoxiaobao Mama. The Bao Baba is actually the founder and CEO of the company. He shares parenting tips draw from his own experience. The video content always has subtitles to make it easier for users to view the content without sound.
He has an impressive Douyin impact of over 290K followers and 5k likes on an average video. The same video is then republished on the last message of the WeChat push notification. Although on WeChat, the message only gets around 1000 views and around 30 likes.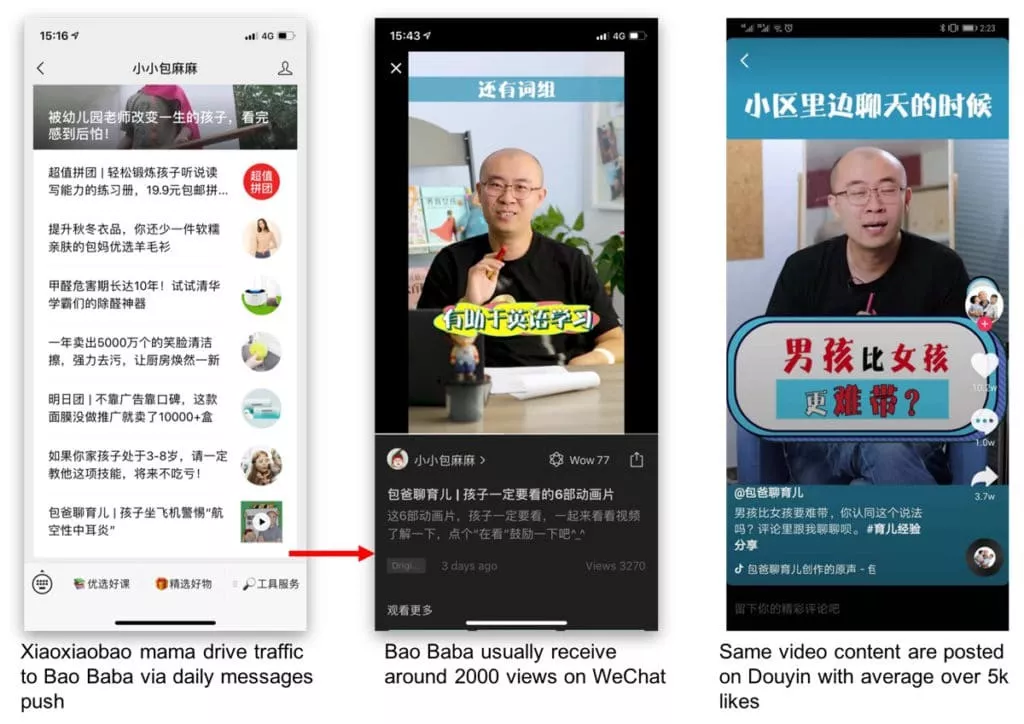 Interestingly Bao Baba also reposts the same content on Kuaishou, but only has 28 followers. Most of the social media channels have become so competitive that even the best content can hardly attract organic traffic. The best way to stand out is to get into the game early enough or work with a larger account to drive traffic to you.
Regular posting time
Xiaoxiaobao Mama knows that users need to actively check their subscription folder in order to see their messages. They, therefore, make sure to post at regular times in order to create a habit among users.
Lately, Xiaoxiaobao Mama has been consistently posting messages every day at roughly 7:33 in the morning, when users wake up and check their phone.
Rigorous product selection
The first and most obvious way Xiaoxiaobao Mama manages to keep customers engaged is by a very strict selection of products. In order to identify the 3,000 products listed in its store, the company had to review 30,000 products: only 10% made the cut.
The team then relies on an army of content writers in order to write engaging and relevant product reviews. Out of the 400 employees of Xiaoxiaobao Mama, 60 of them are focused on writing content.
Conclusion
Xiaoxiaobao Mama has achieved a level of success which is hard to replicate. However, a lot of their tactics can be applied in order to increase the efficiency of your own marketing campaigns.
At the end of the day, the success of Xiaoxiaobao Mama came from a combination of continuously innovating by leveraging the latest WeChat features, while being very consistent with the choices they made in order to generate long term success. (Source: WalkTheChat Blog)